By  Shyamal Sinha
Venerable Pomnyun Sunim is one of the most recognized and influential religious leaders in South Korea with active following. He is well known for his unique way of engaging audiences in Dharma Q&A rooted in Buddhist teachings. He is also the founder and chair of an international relief agency (Join Together Society), a center for peace, human rights and refugees (Good Friends), a think-tank (The Peace Foundation), and an environmental movement organization (EcoBuddha). His extensive humanitarian and peace building work include efforts to alleviate the suffering of ordinary North Koreans through the development of food aid programs and by working with marginalized people in Asian countries to build schools and promote community development. In recognition of his contribution, he received the Ramon Magsaysay Award for Peace and International Understanding in 2002
The Korean Seon (Zen) master Venerable Pomnyun Sunim, founder and chairman of the Join Together Society (JTS), an international Buddhist relief organization, last week led a delegation of aid representatives to deliver a consignment of 100,000 gas stoves to a refugee camp in Bangladesh that is housing hundreds of thousands of Rohingya Muslims who have fled persecution and violence in neighboring Myanmar.
Also present at the handover ceremony in Cox's Bazar, Bangladesh, were JTS President Gena Park, JTS Goodwill Ambassadors screenwriter Noh Hee-kyung and actor Jo In-sung, along with the state Korea International Cooperation Agency (KOICA) chairman Lee Mi-kyung.
"As of now the Rohingya refugees are suffering regardless of whether they are at fault or not," Ven. Pomnyun Sunim said in a speech during the handover ceremony at the camp. "It seems that one of the most important things we can do as human beings is to help them together like this. I think this seems to be a teaching of all religions."
Founded as an expression of the compassion of engaged Buddhism and the belief that helping others is the best way to enrich one's own life, JTS was established by Ven. Pomnyun Sunim in 1993.* Headquartered in Seoul, JTS operates program offices in South Korea, Germany, and the US, along with field offices in India and the Philippines. The organizations has Special Consultative Status to the United Nations Economic and Social Council (ECOSOC).
In October 2017, JTS Korea provided 15 tonnes of rice and 700 mosquito nets to Rohingya camps in Bangladesh, and in January 2018 brought a further 30 tonnes of rice and 2,000 blankets. During these visits the World Food Programme (WFP), the UN organization overseeing relief camps, requested JTS Korea to also provide gas stoves to help relieve a fuel shortage.
After conducting a comprehensive study into the need for the stoves and the dangers associated with their use, JTS ordered 100,000 gas stoves in the second half of 2018, which reached the refugee camp on 22 January. Until that time the Rohingya refugees had mainly relied on wood as a cooking fuel, harvesting tree branches in the hills surrounding the camp, which rapidly led to deforestation and to conflicts with local residents and the authorities.
"I have visited the refugee camp several times before, and I think it is kind of fortunate that despite all the misery in the camp, it still provides the basic materials enabling people to live as human beings," said Ven. Pomnyun Sunim. "First of all, the Bangladesh government accepted the Rohingya refugees, and secondly, UN agencies . . . made a concerted effort to help the refugees. So I appreciate them as well as the efforts of many other NGOs and the KOICA from my heart."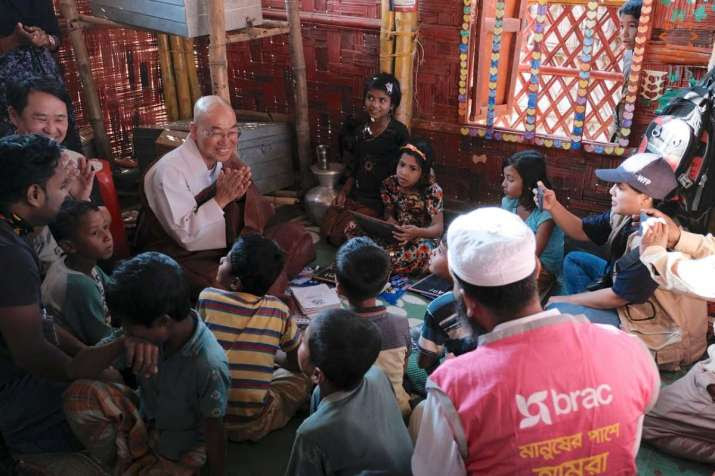 Religious tensions between Buddhists and Muslims in neighboring Myanmar have simmered for almost half a century, and Myanmar's government classifies Rohingya Muslims as stateless foreign migrants, even though many communities have lived in Myanmar for generations. Hundreds of thousands of Rohingya have reportedly fled military clearance operations and attacks by Buddhist mobs, seeking refuge in neighboring Bangladesh in what the United Nations has described as the "world's fastest growing refugee crisis."
Some 880,000 Rohingya Muslim refugees have crossed into Bangladesh, according to UN agencies. Bangladesh, meanwhile, has said it has no intention of accommodating the hundreds of thousands of refugees permanently. Bangladesh and Myanmar reportedly reached a deal in November 2017 to begin repatriation, but there has been little progress, with stateless Rohingya still crossing the border.
The gas stoves were provided by JTS Korea and JTS America in cooperation with the KOICA: 45,000 were provided by JTS Korea, 23,000 by JTS America, and 32,000 by the KOICA. Some 500,000 Rohingya refugees will benefit from the stoves, helping to reduce malnutrition, eliminating the need for women and children to walk up to 7–8 kilometers to gather wood, and protecting the area from further deforestation.
"I was distressed when I heard that the refugees were forced to eat most of their food raw because they had no means of cooking it," said JTS President Gena Park. "But now that each family will have a gas stove, I feel much better."
Charged with bringing hope, empowerment, and self-reliance to underprivileged communities in developing countries, JTS is run and manned by unpaid volunteers, which ensures that all donations go toward benefitting the marginalized communities with which the organization works. JTS carries out relief work in countries suffering from disasters, with the aim of "solving the problems of poverty and pain in Asia by the efforts of Asian people," and has already completed humanitarian projects in Cambodia, Laos, Myanmar, North Korea, the Philippines, and Sri Lanka.
There were an estimated 1 million Rohingya living in Myanmar before the 2016–17 crisis. By December 2017, an estimated 625,000 refugees from Rakhine, Myanmar, had crossed the border into Bangladesh since August 2017. The majority are Muslim while a minority are Hindu.