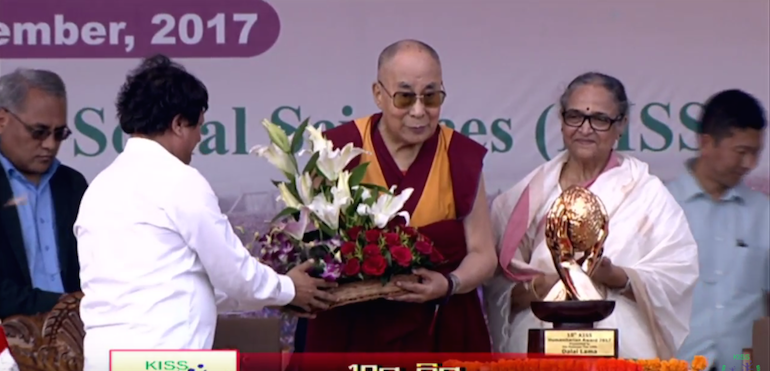 By – Shyamal Sinha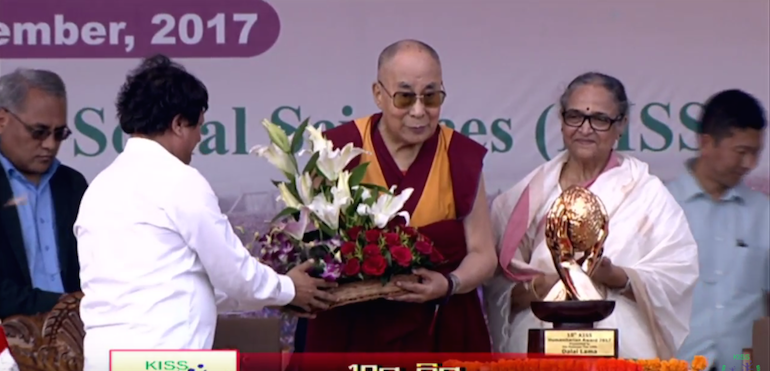 The Kalinga Institute of Social Science (KISS) has presented His Holiness the Dalai Lama, the world peace icon and Tibet's spiritual leader with the prestigious 'KISS Humanitarian Award 2017.'
The award is in recognition of His Holiness' contribution to humanity as a world leader and preserver of rich heritage and culture of non violence. Smt Saswati Bal, President of the KISS Society conferred the award on His Holiness the Dalai Lama at an event held in Odisha.
In his acceptance speech, His Holiness delivered a poignant and stern message on rooting out Indian caste practice and embracing the idea of secular education for a better, happier world.
The modern educational system is not adequate and leans towards materialistic acquisition of knowledge, His Holiness said as he argued that there is need to include secular and human values like compassion in the educational curriculum.
He pointed that anger, jealousy and heightened human distrust of one another breed terrorism and violence.
His Holiness proposed that a practical long-term solution to human problems lies in a holistic secular education system. "Real world peace can be achieved through inner peace and a secular education can contribute to inner disarmament and encourage human values that promote compassion, warmth, mutual respect and sense of wellbeing of others."
Railing against the practice of caste discrimination in India, His Holiness said, "In this country, so-called caste system is outdated, totally wrong. It is an old way of thinking. Discrimination of underprivileged people, that's totally wrong. I myself come from very small village. My family is an ordinary farmer, so unprivileged family. Of course my name makes a little difference. But mainly on my own effort, I have self-confidence."
He exhorted the young students in the audience to work hard with self confidence. "You are the 21st century generation. You have a lot of opportunities and responsibilities. Don't be lazy and work hard.
His Holiness also appreciated the contribution of KIIT and KISS founder Dr Achyuta Samanta in providing education to around 27,000 tribal children of the state.
His Holiness' hour-long speech gripped hearts of over thousands of Indian students and public in audience. In expression of their gratitude and respect, the Odisha audience offered a long standing ovation to His Holiness the Dalai Lama.
The award presentation ceremony was followed by an interactive Q&A session.
The KISS Humanitarian Award was instituted in 2008 by the KIIT and KISS founder to honour and recognise individuals with exceptional contribution to society. Kalinga Institute of Social Sciences (KISS) is an organization dedicated to provide holistic quality education to 25000 tribal children, to overcome poverty and injustice. The Institute was founded single handedly by Dr Achyuta Samanta with the vision to eradicate poverty and empower the disadvantaged sections of the society through holistic education and providing them with sustainable livelihood.