By  Shyamal Sinha
Makomanai Takino Cemetery was established in 1982. It covers 1,800,473㎡, and is open all year round.
Renowned Japanese architect Tadao Ando, noted for the minimalist aesthetic of his designs, has created an expansive open-air Buddhist prayer hall to reverently house a towering Buddha statue that sits imposingly in Makomanai Takino Cemetery on the outskirts of Sapporo in Japan's northern Hokkaido Prefecture.
Originally a free-standing sculpture without any additional ornamentation, the head of the statue now emerges from a circular opening at the center of the new concrete hall—a sign of respect that avoids disrupting its connection with the sky above. To access the statue, the visitor must embark on a journey that draws them inwards through a 40-meter tunnel to their eventual encounter with the Buddha at the center of the structure.
"The site is a gently sloping hill on 180 hectares of lush land belonging to a cemetery," Ando noted. "The statue is 13.5 meters tall and weighs 1,500 tonnes. It is made of fine, highly selected solid stone. Until now, the Buddha statue has stood alone in the field, giving an unrestful impression. The client wanted to give visitors a more serene appreciation of the Buddha." (vitra.)
Hailing from Osaka, Ando, 75, is a self-taught architect whose minimalist designs place an emphasis on utilizing "nothingness" and empty space to highlight the beauty of simplicity. His work is renowned for its distinct Zen-inspired design influences, which have became a distinguishing characteristic.
"The design intention was to create a vivid spatial sequence, beginning with the long approach through the tunnel in order to heighten anticipation of the statue, which is invisible from the outside," Ando explained. "When the hall is reached, visitors look up at the Buddha, whose head is encircled by a halo of sky at the end of the tunnel." (designboom)
Characterizing his design as landscape architecture, Ando emphasized that its appearance changes depending on the time of year—during spring and summer the site is a sea of lush greenery contrasting with vibrant flowering lavender plants, while the snows of winter offer a more austere, introspective aspect.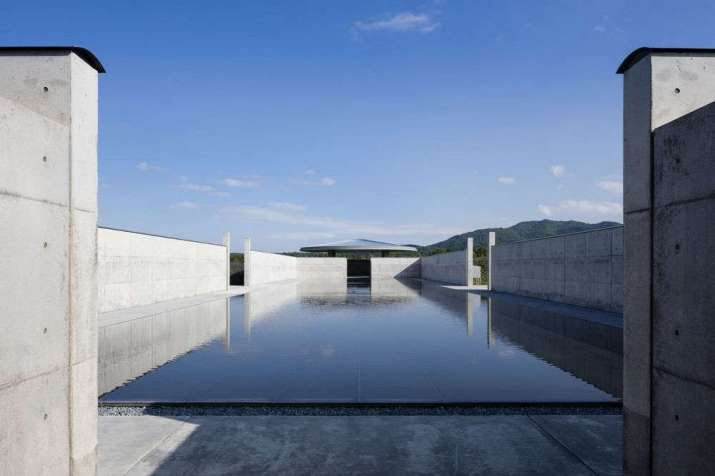 "The Hill of the Buddha is planted with 150,000 lavenders that turn fresh green in spring, pale purple in summer and silky white with snow in winter, Ando related. "The project might be considered on the scale of landscape rather than architecture. It required a special frame of mind to rearrange the environment, and was a challenging and precious experience for us." (vitra.)
Elsewhere at the newly redesigned site, a body of water bounded by long concrete walls and the sky above enhances the serenity and offers an opportunity for both spiritual and literal reflection. According to the cemetery, "By detouring around the water garden instead of making a straight approach, one purifies the soul, and one's mindset switches from the ordinary to the extraordinary." (The Dirt)
Although about 75 per cent of Japan's 127 million people identify as Buddhist, most seldom see the inside of a temple except for during traditional ceremonies. Some 27,000 of the country's 77,000 Buddhist temples are forecast to close over the next 25 years, reflecting shrinking populations in small rural communities and a a general decline of interest in organized religion. A 2015 survey byThe Asahi Shimbun newspaper indicated that 12,065 Buddhist temples in Japan were without resident monks, representing 16 per cent of temples affiliated with the 10 most popular schools of Buddhism in the country. The survey also found that 434 temples from nine major denominations had closed completely in the past decade.*
Although a much more expansive landscape situated within the Makomanai Takino Cemetery near Sapporo, Hokkaido, the Daibutsu at the Hill of Buddha is only fully visible from within the shallow concrete dome. From within the dome, it becomes clear that simple architectural elements play several roles,