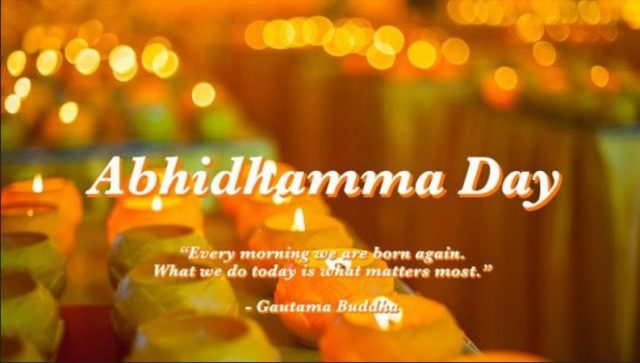 By  — Shyamal Sinha
On Sharad Purnima, which falls on October 9, the International Buddhist Confederation (IBC) and Gautam Buddha University (GBU) will jointly celebrate "International Abhidhamma Day" on the university campus in Greater Noida.
On this day, Lord Buddha makes his triumphant descent from heaven to the earth following his mother's sermon on the Abhidhamma Pitaka. The Abhidhamma Pitaka is a significant text in Buddhism.
The Buddha went back to earth at Sankassiya, now Sankisa Basantapur in Farrukhabad, Uttar Pradesh. Dr. Ashin Nanissara (Sitagu Sayadaw), Chancellor of the Sitagu International Buddhist Academies in Myanmar, will be the event's chief guest.
The Mahaparinirvana Temple in Kushinagar hosted the Abhidhamma Day in 2021, with Prime Minister Narendra Modi attending as the chief guest. Additionally, he opened the international airport in the centre of pilgrimage for Buddhists.
Theravada tradition holds that this day is auspicious because Buddha went to heaven to teach his mother the Abhidhamma Pitaka. After three months of instruction, the Buddha returned to the earth. His adherents observe the three-month period by remaining still and praying. For Buddhist monks and nuns, it is known as the three-month rainy retreat (Varshavaas or Vassa).
The Ashokan Elephant Pillar, a monument marking Sankisa Basantapur, serves as a reminder of the significance of both the location and the event. Buddhist writings mention that the Buddha came here after teaching Abhidhamma to the 'Devas' and his mother as a witness.
The Abhidhamma Day events at GBU will also feature prominent monks from Sri Lanka, Myanmar, Nepal, Bhutan, ambassadors located in India, and other diplomats representing many nations. The Asadha Purnima and Buddha Purnima are the first and second flagship programmes of the IBC, respectively.