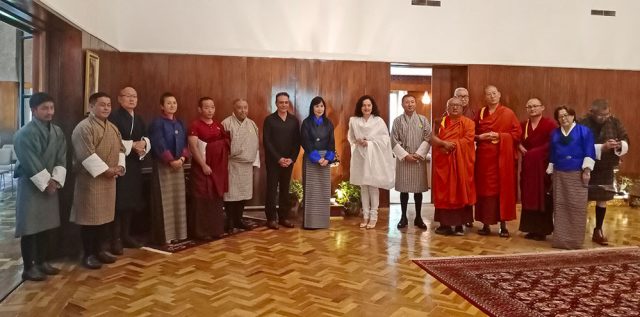 Thinley Namgay
To celebrate the first sermon of Lord Buddha, the Indian Embassy in Thimphu organised a dialogue on the "relevance of the teachings of Lord Buddha in the age of technology" on July 24.
Her Royal Highness Princess Kesang Wangmo Wangchuck graced the event.
President of Centre for Bhutan Studies and Gross National Happiness Research, Dasho Karma Ura and the former Chief Justice of the Supreme Court of Bhutan, Lyonpo Sonam Tobgye shared their views on the subject. The discussion was moderated by the Executive Director of the Bhutan Nuns Foundation, Dr Tashi Zangmo.
Dasho Karma Ura said that the whole essence of the Buddha's teachings were consciousness, ethics, and bodhicitta, which were still applicable in the age of technology. He said that a calm and contented state of mind was critical.
The four noble truths of the Buddha during the first sermon are the truth of suffering, the truth of the cause of suffering, the truth of the end of suffering, and the truth of the path that leads to the end of suffering.
Lyonpo Sonam Tobgye said that some of the essential teachings of Buddha were four noble truths, the law of Dharma and Dharma chakra (wheel of the dharma of truth), which are relevant in all walks of life.
Lyonpo also said that he used to refer kanjur (collection of sacred texts) while enacting laws.  Quoting Albert Einstein, Lyonpo said that if any religion could survive in the age of science and technology, it is Buddhism.
With support from the Ministry of Culture, Government of India, the International Buddhist Confederation organised the Asadha Poornima – Dharma Chakra global celebrations on July 24 to commemorate the Dharma Chakra Parvattana, the first sermon of Lord Buddha.
Prime Minister Dr Lotay Tshering also took part in the event, virtually. Lyonchhen said that the life and teachings of Lord Buddha have always given a great source of inspiration. "Celebrating the first ceremony of Buddha amid the pandemic gives us the spiritual reinforcement and to remember those who lost their beloved ones to the pandemic."
The Prime Minister said: "Material wealth as we know has taken a central stage in most of the globalisation efforts. Is it in line with Lord Buddha's timeless teaching on contentment and loving-kindness?"
Lyonchhen said that Bhutan was fortunate to have a Dharma King who considers well-being as his secret duty and regards problems and sufferings as his.