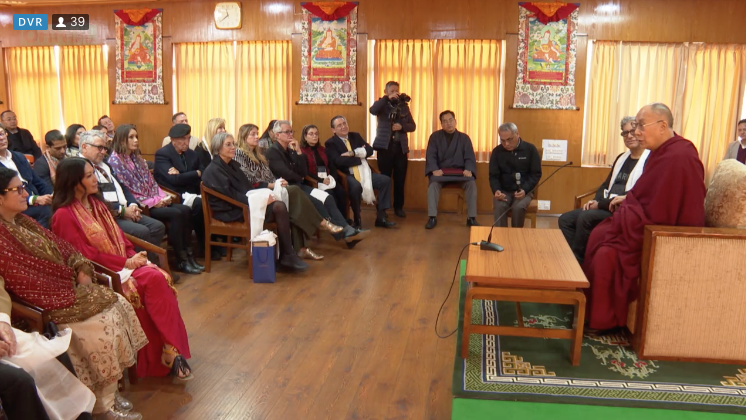 By  Shyamal Sinha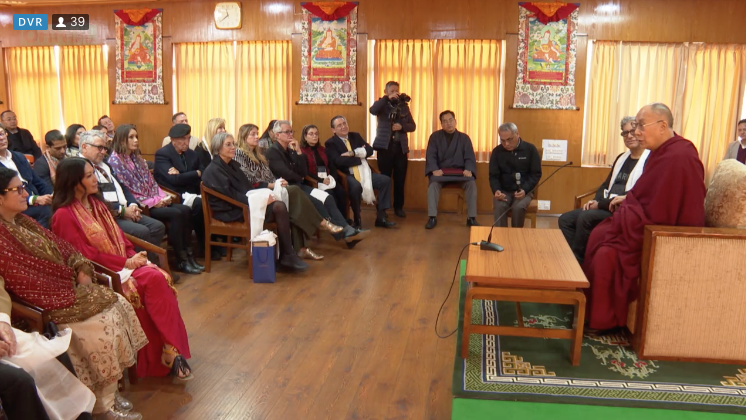 The Dalai Lama, Nobel Peace laureate and the greatest advocate of Tibetan culture, interfaith dialogue and universal ethics spoke Monday to a delegation led by Deepak Chopra, American-Indian author in Dharamshala.
The Tibetan leader introduced himself as a student of ancient Indian knowledge and Indian Pramana (Eng: Logic). He centrally spoke about the relevance of ancient Indian tradition in tackling emotional crisis and reviving the lost tradition through education and awareness.
"Learning to achieve peace of mind is the basis for promoting peace in the world," he said. His Holiness suggested that this profound knowledge of mind and emotions is much relevant today when tackling destructive emotions is so urgent.
"India is the one country that has the potential to combine its ancient knowledge with modern education for the wider benefit of the world at large."
The Vedas, the great religious and literary works of The Upanishads, The Puranas, The Mahabharata, and The Ramayana all come from this period.
In the 6th century BCE, the religious reformers Vardhaman Mahavira (549-477 BCE) and Siddhartha Gautama (563-483 BCE) broke away from mainstream Sanatan Dharma to eventually create their own religions of Jainism and Buddhism.
His Holiness drew attention to the elimination of nuclear weapons throughout the world.
He urged that there should be concerted and vigorous efforts in the public space to achieve a world without nuclear weapons. "We should not only rely on the United Nations, on a public level there should also be some movement calling for denuclearisation.
"India particularly should lead these efforts in this and also in promoting religious harmony," His Holiness observed, adding that it should be more active in the promotion of religious harmony, ahimsa and demilitarisation.
When asked about world leaders whom he admires most, His Holiness the Dalai Lama named leaders such as Mahatma Gandhi, India's first president Rajendra Prasad and former German Chancellor Willy Brandt.
His Holiness also fondly remembered his friends former US President George Bush and Barack Obama with whom, he said, he connected instantly as friends.
Recalling his last meeting with former US President Obama in Delhi, His Holiness said, "I told him 'After me, you should carry forward the promotion of world peace and nonviolence, and he[Obama] promised." His Holiness further added his plans to hold a meeting with Indian Nobel peace laureate, Kailash Satyarthi in Delhi this year, which will eventually finalise a Nobel laureates meeting. "Obama will definitely come to the meeting," he said.
Deepak Chopra, who sat beside His Holiness during the interaction asked him of his views on the effectiveness of meditation, mindfulness and feelings of warmheartedness in reducing risks of disease and terminal illness.
His Holiness said, "Scientists tell us of evidence that human nature is compassionate. They also observe that constant anger, fear and hatred undermine our immune system and so are bad for our health. This is why in addition to physical hygiene we need to cultivate emotional hygiene, a focus on achieving peace of mind."
, on 19 February, His Holiness the Dalai Lama will give a short teaching on Jataka Tales at Tsuglagkhang, Dharamshala.
with input by – Tenzin Saldon