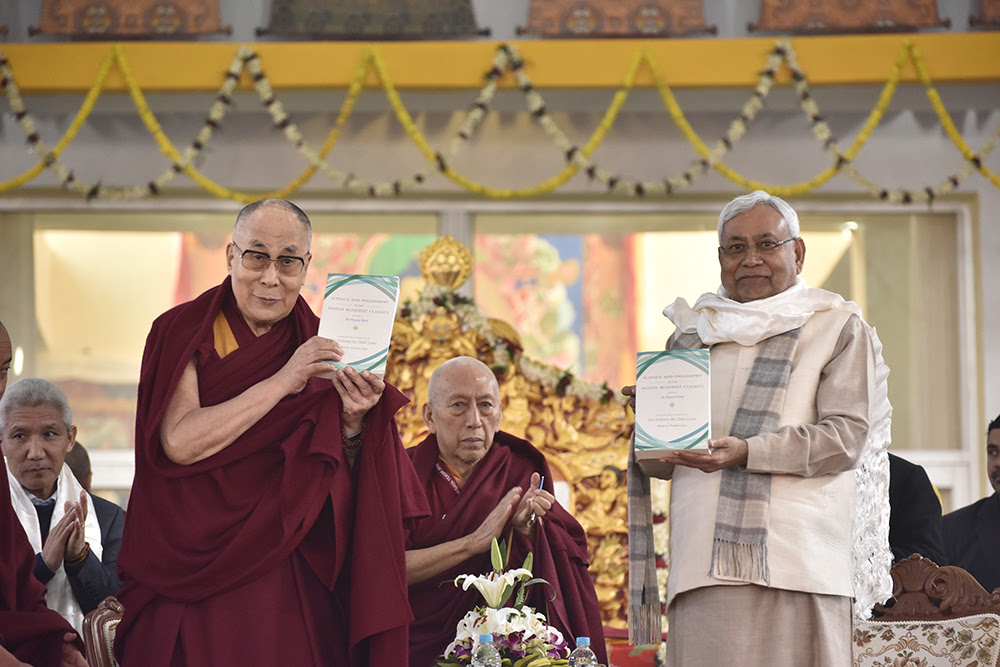 By – Shyamal Sinha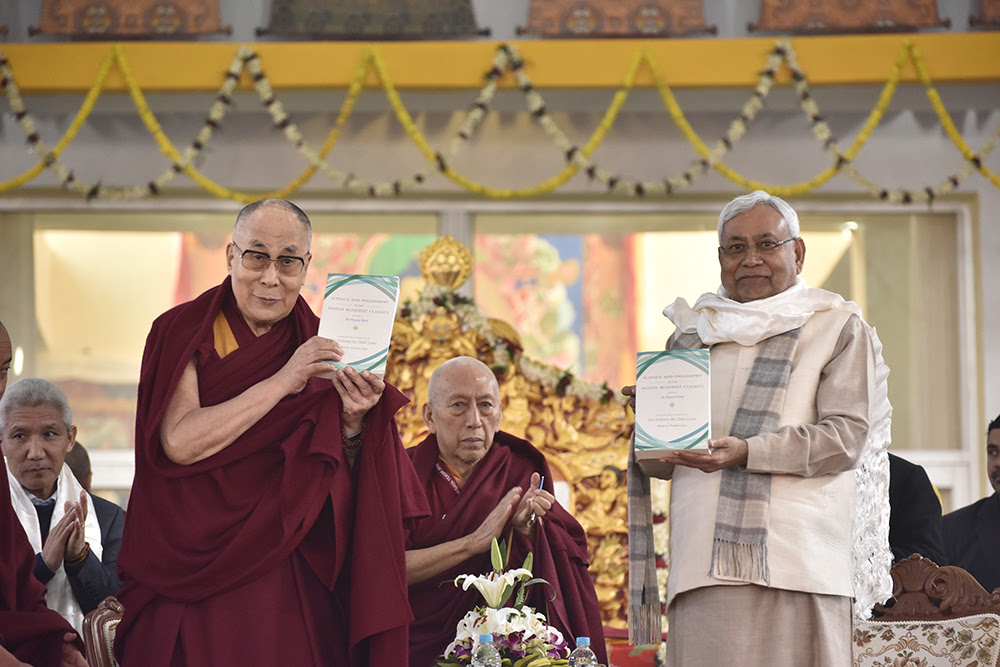 His Holiness the Dalai Lama along with Bihar Chief Minister Nitish Kumar released the first ever volume of 'Science and Philosophy in the Indian Buddhist Classics' on Sunday at Bodh Gaya, Bihar.
"Thanks to His Holiness's vision, contemporary readers have, for the first time, an opportunity to engage from a scientific perspective with ideas and insights of Indian Buddhist thinkers like Nagarjuna, Chandrakirti, Asanga, Bhasubandhu, Dignag and Dharmakiriti," the General editor of the series, Dr Thubten Jinpa said.
In his introduction of the book, Dr Jinpa said, "The creation of this series represents a truly historic achievement . Firstly the careful extraction and organisation of the views and insight of the great Indian buddhist thinkers within a framework of scientific enquiry is in itself a revolutionary achievement in the history of Buddhist thought. This series was conceived by His Holiness, and compiled under his supervision by a team of scholars over many years. It brings together classical Buddhist scientific and philosophical explorations into the nature of reality within a framework that is accessible to the modern reader. Of the 4 volumes with in the series, fist volume which is being released here today is on science of the physical world."
Speaking on the occasion, His Holiness the Dalai Lama said, "When we first arrived in exile in India we had a wide range of problems to deal with. However, in due course it became clear that the psychology, philosophy and logic that we studied in Tibet from childhood had a wider relevance in the world today. It seemed to me that the science of mind, philosophy and logic in our literature could be studied in an academic way beyond the context of religion."
"If we think of our literature in terms of science, philosophy and religion, the religious part is only of interest to Buddhists, but the science and philosophy can be of interest to anyone. I believe we can profitably incorporate ideas and values from these writings into the modern education system. In a world in turmoil because of people's unruly minds, what we are doing is not propagating Buddhism but exploring how we Buddhists can contribute to the well-being of humanity," he said, emphasising the vision behind the project.
By coming to better understanding of the workings of the mind, we can learn to tackle our disturbing emotions and mental afflictions, something we can't do with either weapons or money, he reminded.
His Holiness thanked Bihar Chief Minister Shri Nitish Kumar for joining the auspicious event and presented him with a portrait of the Buddha as a special token. "My friend the Chief Minister is a sincere man and the release of this book here is a special occasion for us all. He has already revealed his spiritual interests with the establishment of the Buddha Memorial Park in Patna. Perhaps he has a karmic connection reaching back to the time of the Buddha."
The Chief Minister expressed his gratitude towards His Holiness for blessing the state and his people with his visit."I feel deeply happy and gratified whenever the Dalai Lama visits Bodh Gaya. His discourses have inspired and transformed a countless number of people. I am hopeful that this new book, which has been compiled under his supervision, will serve as an inspiration for promoting peace in the world."
"It is most fitting that this series is being launched in Bodh gaya which lies in state of Bihar where the great Indian monastery of Nalanda and Vikrama Shila once flourished."
Committee members for the compendium project are Tromthok Rinpoche, Abbot of Namgyal Monastery, Geshe Yangteng Rinpoche, of Sera Me Monastic College; Geshe Jangchup Sangyey, Abbot of Ganden Shartse Monastery; Geshe Chisa Drungchen Rinpoche, of Ganden Jangtse College; Geshe Lobsang Khechok of Drepung Gomang College, who were all present on the stage, and Geshe Ngawang Sangye of Drepung Loseling College, who was unable to attend.