By Shyamal Sinha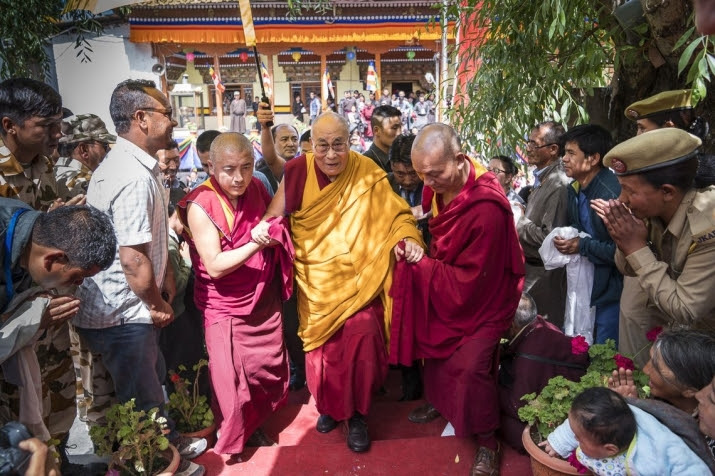 Many well-wishers, including Tibetans in traditional dress, thronged the streets of Leh, Ladakh, waving whites scarves and offering incense and prayers as they gathered to catch glimpse of His Holiness the Dalai Lama, on 6 th july marked his 82nd birthday in the northern Indian city.
Traditional cultural performances and even a cake were offered to the Tibetan spiritual leader, along with prayers for a long life and speeches by community leaders of the Tibetan diaspora. In Dharamsala, Himachal Pradesh, home to the Dalai Lama's official residence, where he has lived since fleeing Tibet in 1959, similar celebrations were also observed.
"His Holiness the Dalai Lama has worked tirelessly to promote human values and religious harmony in the world and for this we are all profoundly grateful. His Holiness has committed himself to the promotion of religious harmony and has therefore met with religious leaders across different faiths," the Kashag, the highest executive office of the Tibetan Central Administration, said in a statement. "Every peace loving people across the globe, including and especially us Tibetans are celebrating this joyous occasion today." (Central Tibetan Administration)
Speaking from the Jokhang temple in Leh on Wednesday, His Holiness observed:
"The world's various religious traditions all teach love and compassion, tolerance, contentment, and self-discipline. They have all brought help to millions. Buddhism too can be summarized in the following verse: 'Abandon negative action; create perfect virtue; subdue your own mind. This is the teaching of the Buddha.' Where it differs from other traditions is in its philosophical stance. Here in Ladakh, like we Tibetans, you follow the Nalanda tradition. This takes a scientific approach, examining things through reason and logic. . . .
"When it comes to the Kangyur and Tengyur we can categorize their contents in three ways—Buddhist science, philosophy, and religion. The religious aspect is only of interest to Buddhists. But the science of mind, logic, and philosophy, such as the explanation of the Two Truths, which deal with how things appear and how they really are, can be approached and studied in an academic way by anyone interested, whether they are Buddhist or not." (The Office of His Holiness the Dalai Lama)
Officials from the Office of His Holiness the Dalai Lama said the Tibetan spiritual leader would remain in Leh until 30 July. The Dalai Lama's program during his stay includes participating in religious ceremonies, conducting a meditation retreat, and delivering teachings.