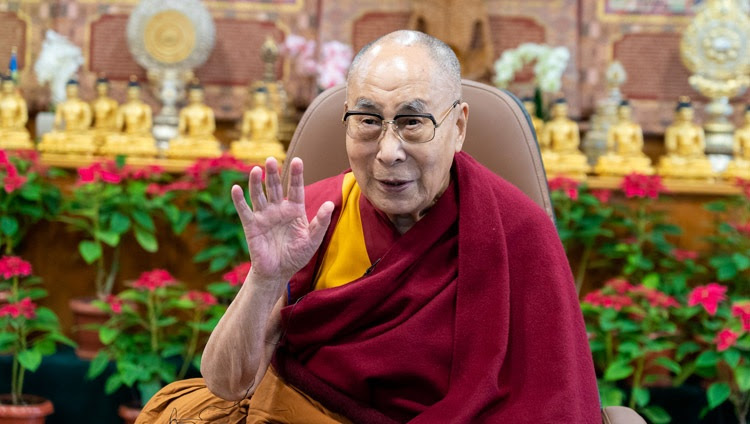 His Holiness the Dalai Lama greeted Tibetans on 2149th Tibetan New Year (Losar) from his residence in Dharamshala.
Watch the greeting video here.
"Losar, our New Year, is approaching. Perhaps it is the custom of countries everywhere to greet each other with "Happy New Year!". So, we Tibetans also look forward to celebrating the New Year. We do extra shopping for Losar. Family and friends get together wearing new clothes and ornaments. We feel refreshed and restored at Losar. New Year is now just around the corner and I am hopeful that on this occasion, Losar will be pleasant, joyful and comfortable for us all, for those of us in exile, but most especially for our fellow Tibetans throughout the three provinces of the Land of Snows. Anyway, many changes are taking place. People from abroad also take interest in our culture and traditions. As part of Tibetan tradition, we arrange Chemar (butter-roasted barley flour) and other offerings on the altar for Losar. We greet people with "Losar Tashi Delek!" "Good Luck for the New Year!". Isn't it rare for Tibetans to get into fights on New Year's Day? Everybody id generally festive and in good spirits on New Year's Day. All Tibetans, whether we are living in exile, or in other countries abroad, and especially our fellow Tibetans inside Tibet, all of us, people of the Land of Snows, are the ones-to-be-tamed by Arya Avalokiteshvara in whom we place our faith and trust, and to whom we pray. As for me, as we say in this prayer:
In the land encircled by a fence of snow mountains,
the source of all happiness and benefit
is Tenzin Gyatso, who is Lord Avalokiteshvara.
May he live until cyclic existence ends.
I live as the physical, verbal and mental representative, respectively, of Arya Avalokiteshvara's holy body, speech and mind. For many years this is how I have conducted myself and I am confident that I will remain like this for the next decade or more. Since Arya Avalokiteshvara is the deity of compassion, it is very important for all Tibetans to cultivate compassion. Please keep this in mind and do your best to be good human beings. Tashi Delek"