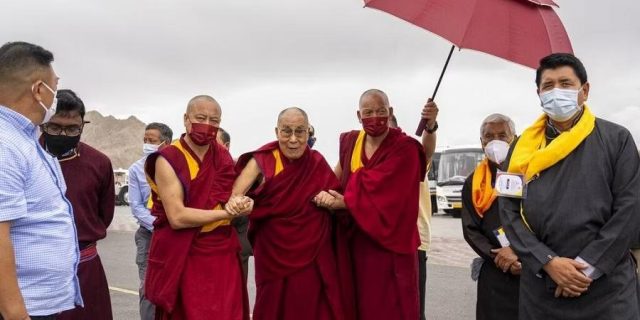 By  —  Shyamal Sinha
His Holiness the Dalai Lama is scheduled to arrive in Bodh Gaya, India, on 25 December, where he plans to offer a teaching on Nagarjuna's Commentary on Bodhicitta (Jangchup Semdrel) and confer the blessing of 21 Taras (Dolma 21 Jenang) from 29–31 December. His Holiness intends to stay in Bodh Gaya for a month, with the goal of promoting global peace.
The Dalai Lama's travel plan represents his first major visit to Bodh Gaya in nearly two years, after COVID-19 precautions led to the cancelation of a number of visits and teachings. His previous visit to Bodh Gaya was in January 2020.
The Tibetan spiritual leader's visit is seen by many as an opportunity to restart tourism in this community that depends deeply on revenue from visitor for economic survival. "It is likely to boost Bodh Gaya's tourism economy hugely, " said the secretary of the Buddhist Thai-Bharat Society and a functionary of the International Buddhist Council, Ratneswar Chakma. (The New Indian Express)
Bodh Gaya received more than half a million tourists from India and other countries in 2019. The majority of visitors from overseas were Buddhist pilgrims traveling from Buddhist-majority countries. But in 2020 and 2021, the COVID-19 pandemic reduced visitors dramatically, cutting off the livelihoods of many in and around Bodh Gaya.
"We lost all business. There were no customers and we closed down our restaurant," said the manager of the SiamThai Restaurant, Dev Kumar. "Now we hope to recover much of our business with the scheduled visit of His Holiness the Dalai Lama." (The New Indian Express)
According to officials at Bodh Gaya International Airport, several international flights, mostly private charters filled with pilgrims, have been landing each day.
While China's "zero-COVID" policy and the ongoing conflict in Myanmar have slowed travel to India from some Buddhist countries, pilgrims from Bhutan, Japan, South Korea, Thailand, and Vietnam have been arriving in large numbers ahead of the Dalai Lama's visit.
Kinley Tshering, who runs a Bhutanese restaurant, expressed optimism: "[The] Dalai Lama will not only bring us spirituality and peace but also good business. We nearly gave up our restaurant lease because there was no business for two years due to the pandemic. But now foreign tourists from all over are coming in droves." (The New Indian Express)
Nonetheless, many who are involved in Bodh Gaya's tourism industry see hurdles to achieving global status as a pilgrimage site.
"For Bodh Gaya to be elevated to something like an international holy town like Mecca or the Vatican, the Indian government and the Bihar government have to bring about a complete change in administrative attitudes," said Kailash Prasad, a professor of Buddhist studies based in Bodh Gaya. "Buddhist religious figures and experts on Buddhism must have greater say in the running of sites like Bodh Gaya rather than small-time bureaucrats with limited understanding of Buddhism." (The New Indian Express)
Registration for the Dalai Lama's teachings from 29–31 December opened online on 1 December and will be open from 10 December in person.
Those who are planning to attend the teachings can register online at www.dalailamateaching.com. Teaching Pass will be issued at Bodhgaya (Registration Counter) after producing your online registration form along with any of following documents: Passport/Aadhaar card/Voter lD/Green Book/RC.
On January 1, 2023 His Holiness will attend a Long Life Prayer offered to him by the Geluk Tibetan Buddhist Tradition at the Kalachakra Teaching Ground. Webcasts also available in Tibetan, Chinese, Vietnamese, Japanese, Hindi, Korean, Spanish, French, German, Russian, Nepali, Ladakhi, Italian, Portuguese and Mongolian.
All times Indian Standard Time (IST=GMT+5:30)
December 29th – 31st: Teaching
Times:
December 29th: 8:00am – 9:30am IST
December 30th: 8:00am – 9:30am IST
December 31st: 8:00am – 9:30am IST
January 1st: Long Life Offering Ceremony
Time: 8:00am – 9:30am IST