"Ours is a battle not for wealth; nor for power, ours is a battle for freedom; for reclamation of human personality." Dr.B.R.Ambedkar
His Holiness the Dalai Lama praised the moving symbolic demonstration of social equality by a Hindu priest, who made international headlines last week for carrying an "untouchable" Dalit man on his shoulders into the inner sanctum of the 400-year-old Chilkur Balaji temple in southern India.
"I applaud you for your exemplary action. I was moved by your statement that you wanted to show people that everyone is equal in the eyes of God," the Dalai Lama wrote. "It is all the more heartening to know that once you were both in the temple, you and Mr. Aditya also prayed and performed rituals together." (The Hindu)
In defiance of popular tradition, 60-year-old C. S. Rangarajan, the head priest or archaka of Chilkur Balaji temple in Hyderabad, state capital of Telangana, on 17 April bore the young Dalit man, Aditya Parasri, into the Hindu temple's sacred inner sanctum, where the two men prayed and performed rituals together.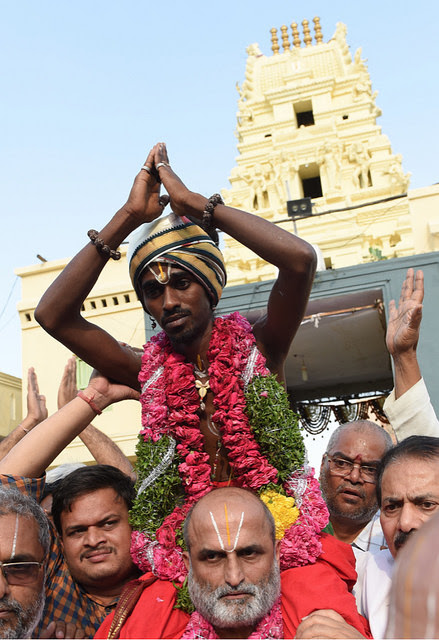 "I wanted to show people that everyone is equal in the eyes of god," Rangarajan told the BBC. "I hope others do the same—it doesn't mean everyone should literally carry a Dalit man on their shoulders, but they must welcome Dalits into temples and to participate in rituals," he emphasized.
India's Dalit community faces frequent social and economic exclusion as a result of the conservative Hindu social hierarchy. Dalit, which translates as "broken" in Sanskrit, is a term for the very lowest castes, which "higher" castes still deem as "untouchable," although the practice is technically prohibited in the Constitution of India.
"Being a Dalit, my family faced a lot of hardships and discrimination," said an emotional Aditya, 25, after visiting the temple. "The worst feeling was when my family was denied entry to the Lord Hanuman temple in Mahbubnagar, my native place. This sort of discrimination is not endorsed by any religion, or Vedic scriptures, or Upanishads. It is only there in the minds of the society and this mindset needs to change." (The Times of India)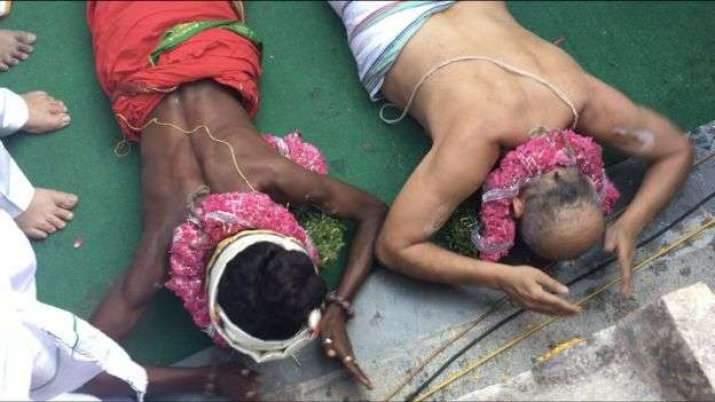 The powerful message of opposition to social discrimination comes amid an alarming increase in communal violence against members of the Dalit community across India. Early in April, spiritual leaders representing India's Buddhist, Christian, Hindu, Jain, Muslim, and Sikh communities gathered in the western state of Goa to condemn the violence and express anguish over exploitation based on religion, region, and community.*
Generally believed to date back more than 3,000 years, India's caste system remains culturally pervasive throughout the country. Although discrimination against lower castes is illegal, segregation, discrimination, and exploitation remain a daily reality for the country's roughly 200 million Dalits, who are not permitted to attend the same temples or schools, or even drink from the same cups or wells as "higher" castes. To escape this entrenched discrimination, many Dalits have turned to Buddhist conversion, which has given them a new community and opportunities with a renewed sense of self confidence and self worth.
The Dalai Lama noted in his message that it was encouraging that other priests, who were also present when Aditya was borne into the temple, had declared that they would conduct similar symbolic demonstrations at their own temples. There was no doubt, His Holiness stated, that such kindness and generosity was the way forward.
The octogenarian Nobel Peace Prize laureate observed ithat India and its people have a rich and sophisticated philosophy that upholds the concepts of karuna (Skt. compassion) and ahimsa (Skt. non-harmfulness), writing: "As a student of ancient Indian thought and one who has lived in India for nearly 60 years, I feel proud of India's secularism, its unity, diversity, and its thriving practice of religious harmony." (The Hindu)
The Tibetan spiritual leader has repeatedly spoken out against India's pervasive caste system, most recently at a special meeting for 500 international guests in Dharamsala last week, when he criticized the practice as a source of societal division that emphasizes inequality.**
Last year, His Holiness described the caste system as "feudal," stating: "This so called caste system was not created by God, not by any preacher, but by feudal systems. The landlords, including rajas and ranis, created an upper class and lower class in order to exploit other people. Eventually the lower class, psychologically (undermined), followed what the upper class said. But this is undemocratic . . . and is outdated." (The Economic Times)