By  Shyamal Sinha
The earth will end only when God declares it's time to be over. Man will not destroy this earth. This earth will not be destroyed by a flood. well said by renowned poet.
In a personal letter to Japanese prime minister Shinzo Abe, His Holiness the Dalai Lama last week offered a heartfelt expression of sadness over the loss of life and destruction of property after western Japan was inundated by unprecedented widespread flooding and landslides—the country's worst weather disaster in decades.
At least 222 people have died and some 30 people remain missing after successive torrential rains caused rivers to burst their banks, unleashing floods and an estimated 700 landslides in 31 prefectures earlier this month, resulting in Japan's worst weather-related catastrophe in more than three decades. More than 8 million people across 23 prefectures were advised evacuate as a result of the deluge.
Tens of thousands of homes in the affected areas have been damaged and thousands remain homeless, housed in evacuation centers in the region. According to government data, the number of households still without piped water as of the past weekend, had been reduced to 193,000 from about 260,000 earlier, as a result of disaster recovery work.
"I am writing to express my sadness over the loss of life, devastation of property, and hardship caused to so many. I have visited Hiroshima several times and am familiar with that part of the country. I feel a great sympathy for the families of people who have died and those who have lost their homes," the Dalai Lama said in his letter of condolence. "I appreciate the efficient steps that are being taken to seek out and rescue those affected and provide relief. I pray for the success of the measures being taken." (The Office of His Holiness the Dalai Lama)
Prime Minister Abe, who canceled a planned trip to Europe and the Middle East as the government stepped up rescue operations, announced that a special disaster response unit had been expanded to 73,000 personnel, adding that the unit was "putting in utmost efforts to save lives." (The Tibet Post)
Although several hundred kilometers from the disaster-hit region, the government of Tokyo has pledged to provide public housing for victims of the flooding. "As of Tuesday about 110,000 residences, ranging from council housing to privately rented houses, have been made available across Japan for victims of the flooding, according to figures made public on the Land, Infrastructure, Transport and Tourism Ministry website," The Japan Times reported.
Exacerbating the desperate situation and hampering recovery efforts, a heatwave in recent days has seen temperatures approaching 40ºC in some inland parts of the country, with 14 fatalities reported and thousands hospitalized. The flooding has also affected thousands of homes and commercial properties, with damages and economic losses forecast to be in the billions of US dollars
"Over the years I have been able to visit Japan regularly and have appreciated the interest and enthusiasm that people from all walks of life have shown in my efforts to encourage cultivation of fundamental values such as compassion and religious harmony. Today, I want to express my concern for all those facing distress as a result of this severe natural disaster." His Holiness expressed, concluding: "I would like to recommend that recitation of the Heart Sutra would be of benefit at this sad time." (The Office of His Holiness the Dalai Lama)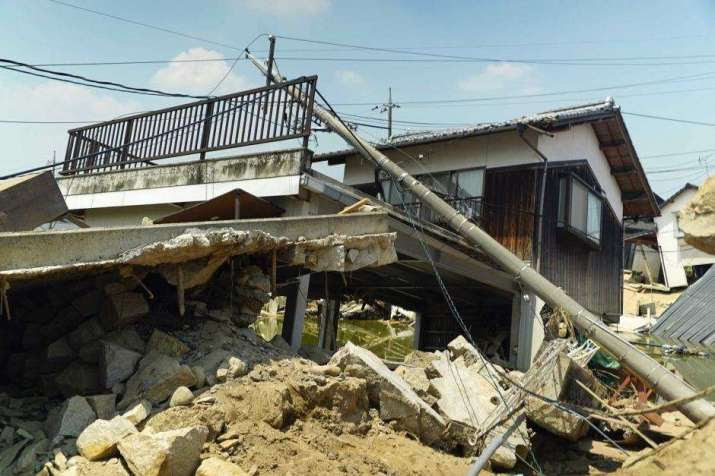 We must build dikes of courage to hold back the flood of fear. said by renowned poet.