By  Shyamal Sinha
Tibetan leader His Holiness the Dalai Lama has expressed his sadness over the loss of life and destruction of properties there. The Buddhist figure said that he will pray for those affected by the natural disaster.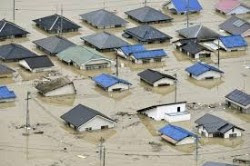 In a letter written to Japanese Prime Minister Shinzo Abe, the Dalai Lama wrote, "I am writing to express my sadness over the loss of life, devastation of property and hardship caused to so many. I have visited Hiroshima several times and am familiar with that part of the country. I feel a great sympathy for the families of people who have died and those who have lost their homes."
The Tibetan leader said that he shared affinity with the nation where he had visited on a numerous occasions and where people have related to his message of peace and compassion. "Over the years I have been able to visit Japan regularly and have appreciated the interest and enthusiasm that people from all walks of life have shown in my efforts to encourage cultivation of fundamental values such as compassion and religious harmony. Today, I want to express my concern for all those facing distress as a result of this severe natural disaster," the octogenarian leader further wrote.
The record-level rainfalls have caused rivers to burst causing flood and mudslides across 11 prefectures in the island nation. Cities such as Sukumo in Kochi prefecture and Ashiki in Okayama Prefecture are among those worst affected by the rain fall that is double the usual levels.
Japanese Chief Cabinet Secretary Yoshihide Suga has said that in addition to 90 people who have died from flood and mudslides, 13 more have died since due to cardiac arrests bringing the death toll to over a hundred.
While rescue efforts are underway and emergency rain warnings have been lifted, over two million people have been forced to flee their homes. 17,000 households are without electricity and phone lines across Japan. Authorities say over 73,000 personnel are currently engaged in rescue operations.
More than 100 people have died and dozens remain missing after record torrential rains unleashed floods and landslides in western Japan.