By Shyamal Sinha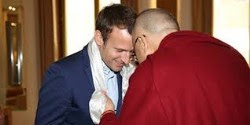 His Holiness the Dalai Lama   congratulated the French President-elect Emmanuel Macron following his decisive win in the French presidential polls.
Emmanuel Macron was elected president of France on Sunday with a business-friendly vision of European integration, in a resounding defeat of Marine Le Pen, the far-right nationalist who threatened to pull out of the European Union.
Macron – the 39-year-old former investment banker who served for two years as economy minister but has never previously held elected office – will now become France's youngest leader since Napoleon with a promise to transcend outdated left-right divisions.
In a letter featured in the official website of his private office, the Tibetan leader wrote, "It was an honour to meet with you in Paris last September. I very much appreciate the sentiments you expressed at that time. During my visits to your country over the years, I have been touched by the affection and friendship shown to me by people from all walks of life."
Further urging the youngest French President to uphold the spirit of the European Union, the 81 year old wrote that he had been "an enthusiastic admirer" of the structure which has been "putting the wider community's long-term common interest ahead of national and other local concerns".
"Since France is one of the pillars of the European Union, I am confident that you will be able to play an active role in its successfully meeting the challenges that lie ahead," the Nobel laureate further stated.
Also, the President of the exile Tibetan government, known officially as the Central Tibetan Administration Lobsang Sangay wrote to congratulate Macron. Representing the Tibetan people, he wrote, "Your decisive victory in the French election is a reflection of the French people's deep rooted faith in the spirit of reconciliation and integration that you have advocated as part of your En Marche campaign.It is a testament to the strength and resonance of France's three founding principles – Liberty, Fraternity and Equality – in these divided times."
Sangay, the head of the CTA which holds the 'Middle Way Approach' as the official stand for the resolution of the Tibetan issue also urged support for the same. "You have also personally met His Holiness the Dalai Lama in September 2016 and voiced support for the Tibet issue on numerous occasions. Therefore, as you embark upon your responsibility as France's new President, we remain optimistic of your continued support towards the resolution of the Tibet issue based on the Middle Way Approach.
"As France's youngest president, we are also hopeful of the fresh impetus that you will inject in global politics and the culture of democratic patriotism," the Tibetan President wrote.
Described by many as an 'independent centrist' Emmanuel Macron beat rival Marine Le Pen by 66.06% to 33.94% according to the French interior ministry.
"A new page in our long history has turned tonight," said Macron in a brief address to the press after the results were announced.
"I want it to be that of rediscovery of hope and trust."
He promised to "fight the divisions that undermine France" and to "rebuild the links between Europe and its citizens".