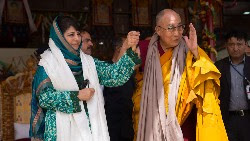 By  Shyamal Sinha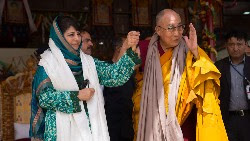 The CM Mufti lauded the octogenarian Tibetan leader for his views on differences between Islam as a faith and terrorists who are Muslims. "I've been touched to know of your remarks distinguishing Muslims from terrorists and reaffirming Islam as a religion of peace. If conditions prevailed I would like to invite you to bring your soothing blessings to the people of the Kashmir Valley too—thank you," Mufti was reported as saying.
"We the people of Jammu & Kashmir, as well as the people of Ladakh, are happy that you come here and shower your blessings on us. I wish you the best of health so you may continue to visit us. You bring peace wherever you go," she further said.
The Dalai Lama who has been a staunch advocate of religious harmony among members of different faith throughout his life said, "Religious harmony has long flourished here in this country. India should set an example by showing the world that religious traditions can live side by side in mutual respect.
"I do my best to tell people about this wherever I go. That's all I have to say. I've been to Nubra and Zanskar, as well as my time here in Leh and everything has gone very well. I'd like to thank you all."
His Holiness the Dalai Lama yesterday concluded a three-day teaching on 'A Guide to the Bodhisattva's Way of life' followed by a White Tara Long-Life Empowerment at Shiwai Tsal in Leh, Ladakh. Ladakh Buddhist Association (LBA) who organized the teachings estimates that over 60,000 devotees attended the proceedings.