By Shyamal Sinha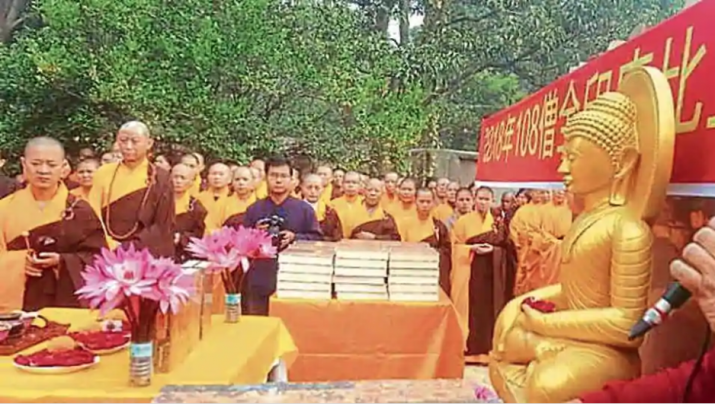 Xuanzang Chinese: Hsüan-tsang fl. c. 602 – 664) was a Chinese Buddhist monk, scholar, traveller, and translator who travelled to India in the seventh century and described the interaction between Chinese Buddhism and Indian Buddhism during the early Tang dynasty..
On 2 December, a 170-strong delegation of Chinese Buddhist monks arrived in Bodh Gaya after a 15-day padyatra from Lumbini. In Bodh Gaya, they participated in a chanting session that had been organized by the International Buddhist Council (IBC) and the All India Bhikkhu Sangha (AIBS). The chanting was first held on Kalchakra Maidan Road, but then proceeded to the Bodhi Tree at Maha Bodhi Temple, where Buddha is said to have attained enlightenment.
The Chinese monks had been carrying the Chinese version of the Tripitaka, the earliest compendium of the Buddhist teachings and the foundational texts of Theravada Buddhism (which is most prominent in South Asia and Southeast Asia). They donated this Chinese version to representatives of the AIBS before the chanting ceremony. The route was chosen because it is reputed to be similar to that taken by two famous Chinese pilgrim monks that travelled to India, Faxian (337–422) and Xuanzang (602–664). (Buddhist times ]
Buddhism has been at the epicenter of a growing diplomatic exchange and rivalry between the China and India, with Nepal caught literally in the middle and sandwiched between two larger colossi. The Buddhist Association of China and the China Religious Culture Communication Association recently held its 5th World Buddhist Forum in October (Xinhua), while the Indian Ministry of Tourism held its Sixth International Buddhist Conclave a few months earlier in August. Nepal has traditionally promoted Lumbini as the birthplace of Siddhartha Gautama, the local chieftain's son who would become the Buddha, while India stresses the Indic origins of the Buddhist tradition.
The Buddhist connection, while a source of contention between China and India, has paradoxically also proved to be one of the most enduring and obvious historical ties between the two nations and a stimulus to civil diplomacy (soft diplomacy driven by non-governmental organizations like religious institutions, even if the events might be hosted by government bodies). The dialogue and debates in recent years have also prompted Buddhist thinkers, political writers, and policy wonks to re-evaluate the nature of Sino-Indian diplomacy and whether Buddhism could play an important cultural role in bridging differences over geopolitics or the world economy.
The present conversation about Buddhist diplomacy has also opened some fissures in the Indian government's methodology, which is to promote the "circuit" of Buddhist tourism (the word "pilgrimage" is avoided in official materials) to foreign Buddhist organizations while propounding a Hindutva narrative of Buddhism as an expression of Hinduism domestically. Meanwhile, the BJP government has tried to focus much of its domestic capital courting the Dalit community, which has been building a politically active Buddhist presence in India since Dr. B. R. Ambedkar's conversion to Buddhism on 14 October 1956.
The journey for the Chinese monks is not over yet: according to Buddhist Times, they, along with other foreign monks who gathered at the chanting on 2 December, will visit Jethian in Gaya, where the Buddha and king of Magadha and Buddhist disciple, Bimbisara, are believed to have first met at the old site of Jeshthivan. They will then leave Jethian to walk to Venuvan in Rajgir, where the Buddha was donated a bamboo grove by King Bimbisara. The foreign monastics will also visit Nalanda and Gurupadgiri, before going back to Bodh Gaya on 13 December. IBC secretary Bhante Pragyadeep told Buddhist Times that the chanting ceremony will conclude on 14 December. ( Buddhist Times)