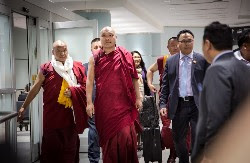 By Tenzin Monlam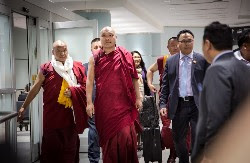 Canadian parliamentarians David Sweet and James Maloney in their respective speeches at the House of Common in welcoming the 17th Karmapa Ogyen Trinley Dorje, who is on his first-ever Canadian tour, urged the world and the Canadian government to stand up against China.
"We welcome the 17th Karmapa on his first visit to Canada. His life should remind us of the dire human rights situation in the so-called autonomous region of Tibet. At 14, he fled his home amidst the tyrannous efforts of China to persecute the people of Tibet through forced assimilation and restricting religion to the point of destroying religious buildings," said Member of Parliament David Sweet suggesting the freedom enjoyed by every Canadian should be upheld for all mankind.
Highlighting how the condition had deteriorated in the sixteen years since he fled into exile, the MP said that the conditions in Tibet have gotten worse.
"This liberal government needs to stand up to the People's Republic of China and advocate for truly autonomous region for Tibetans, so they may enjoy the freedoms you and I do," said MP David Sweet in his address to the House.
MP James Maloney in his welcome speech said that he and his colleagues commend for the young religious leader's commitment to helping youth, for his dedication to social and environmental responsibility and for bringing Buddhist teaching to the modern world.
"His Holiness touches many lives by making Buddhism and meditation accessible to people through technology and electronic resources. He is helping thousands of people going through mental challenges find peace," said MP James Maloney.
The MP from Etobicoke—Lakeshore, where Tibetan Canadian Cultural Centre has been established since 2004, added that he wishes Karmapa a 'meaningful' trip.
The Karmapa arrived in Canada on for a month long visit on May 29 and is scheduled to have a public event at Calgary today and June 18th to 24th in Vancouver. The first trip to Canada follows another maiden trip to the United Kingdom.