Veteran actor and film star Chow Yun-fat may have achieved global superstardom, but the trappings of that success don't seem to have gone to his head as the self-professed Buddhist recently revealed that he plans to donate the bulk of his considerable fortune to charity.
The Hong Kong-born movie star, whose more than 40-year career has garnered him critical acclaim across the world, has pledged to give away almost his entire net worth of an estimated HK$5.6 billion (US$714 million). Asked about the reason for this apparent lack of attachment to material wealth, Chow reportedly smiled and replied: "I feel that the money does not really belong to me. I am just in charge of keeping it temporarily." (Shanghaiist)
Chow, known to his Hong Kong fans by the nickname Fat Gor,has appeared in more than 90 movies, along with numerous TV appearances, over the course of his career, with notable highlights including A Better Tomorrow (1986), All About Ah-Long(1989), The Killer (1989), God of Gamblers (1989), Hard Boiled(1992), Anna and the King (1999), Crouching Tiger, Hidden Dragon (2000), Bulletproof Monk (2003), and Pirates of the Caribbean: At World's End (2007).
Although his long career has been built on action movies and battling bad guys, the characters he plays are far removed for Chow's own more humble and thoughtful personality. "I want to play different roles, not just the tough guy. I want to do comedies, melodramas, like Tom Hanks," he said. "Actually, I'm a Buddhist. And in real life, I hate violence. I don't like it at all. But I'm forced to do it because it's my job." (tribute.ca)
Born in 1955 and raised in a rural farming community, the award-winning actor has clearly not lost touch with his humble beginnings. "My dream is to be a happy and normal person," said Chow. "The hardest thing in life is not about how much money you earn, but how to keep a peaceful mindset and live the rest of your life in a simple and carefree manner." (Jayne Stars)
Despite his high-profile status, Chow is also renowned for valuing his privacy and maintaining a low-key and modest personal life with his Singaporean wife Jasmine Tan that includes traveling on public transportation, eating at inexpensive street-side food vendors, engaging in charity work, and spending his free time hiking and jogging, when he'll willingly stop for a selfie if recognized by his fans.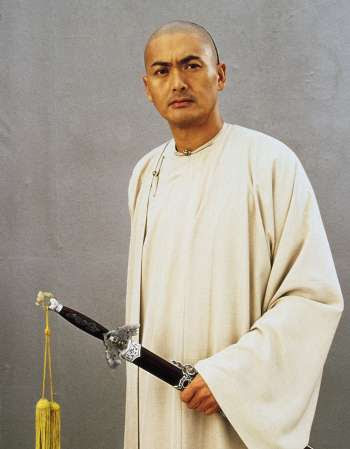 According to media reports, Chow used the same Nokia mobile phone for 17 years, and only upgraded to a smartphone two years ago when his Nokia finally stopped working. He also shops at discount clothing stores, reportedly stating: "I don't wear clothes for other people. As long as I think it's comfortable, then it's good enough for me." (IndieWire)
Chow is also not averse to getting his hands dirty. In the wake of the powerful Typhoon Mangkhut, which cause widespread damage after slamming into Hong Kong last month, the A-list actor was spotted in the street helping to clear away debris that was blocking a road.
Despite a his low-key demeanor, Chow will occasionally wear his convictions on his sleeve, such as during the 2014 Umbrella Movement demonstrations in Hong Kong, when thousands of pro-democracy protesters carried out a 79-day sit-in in central Hong Kong, calling for greater political independence from China for the Hong Kong Special Administrative Region.
After reportedly criticizing Hong Kong's police for using tear gas against the demonstrators, Chow expressed hope that the government and the democracy movement would resolve their differences. "I've met the residents, the students—they are very brave and it's touching to see that they're fighting for what they want," he told the Apple Daily newspaper. "The students are reasonable. If the government can come up with a solution that the citizens or students are satisfied with, I believe the crisis will end."*
He also shrugged off China's subsequent alleged ban on celebrities and entertainers who spoke out in support of the pro-democracy movement, saying: "Then I'll just make less!" (The New York Times)