By Shyamal Sinha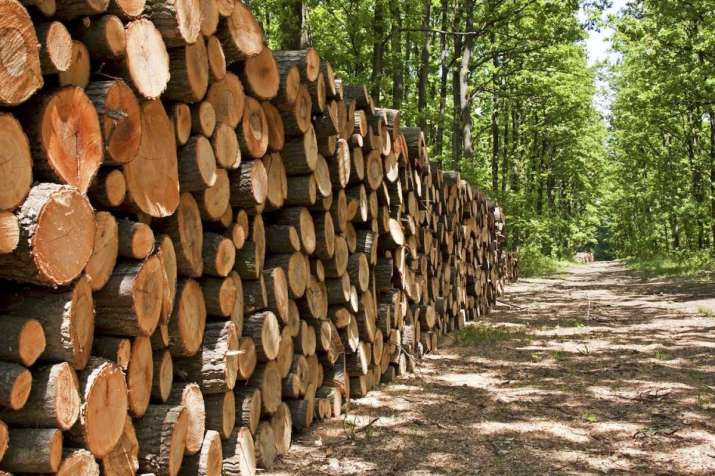 Kham Chanot, or often labelled Kham Chanod, is a Buddhist forest temple near Kham Chanot village in Udon Thani province, in the North Eastern part of Thailand, known as Isaan.
The temple is located in the Wang Nakhin area at a lake where a mythical large snake, the naga lord Sisotho, is supposed to be living. The worship of this naga lord is one of the main features in this small forest monastery. In the region of 10 monks live here as permanent residents. Both local Thai pepole, and some from Laos, believe the naga lord has a hideaway on the island.
An aging Buddhist monk living in the northeastern Thai province of Nakhon Pathom has appealed for help in his lone fight with a trans-national logging syndicate that is threatening the existence of a royal forest conservation project.
Seventy-six-year-old Luang Pu Kittiphong Kittisophon, the abbot and only resident of the forest temple, Wat Pa Kham Sawang, in the Si Songkhram District of Nakhon Pathom has petitioned the authorities for help protecting the forest reserve that is made up of more than 1,000 Siamese rosewood trees (Dalbergia cochinchinensis) believed to be up to 300 years old.
According to the monk, the logging gang has felled nearly 100 trees in the past year, despite the 19-hectare forest becoming part of a forest protection project implemented by Thailand's Princess Maha Chakri Sirindhorn.
The abbot, who says he has received numerous death threats as a result of his attempts to oppose the logging, has appealed to the provincial governor, Somchai Witdamrong, for action. He noted that local police had been unresponsive to his previous attempts to report the problem.
The monk added that in the most recent threat on life, which occurred last week, an unidentified person discharged a handgun near his hut in the middle of the night.
In a statement, the provincial governor said talks on the importance of actively protecting the forest were being held with local residents, who are encouraged to work with the authorities in sharing information about illegal activity.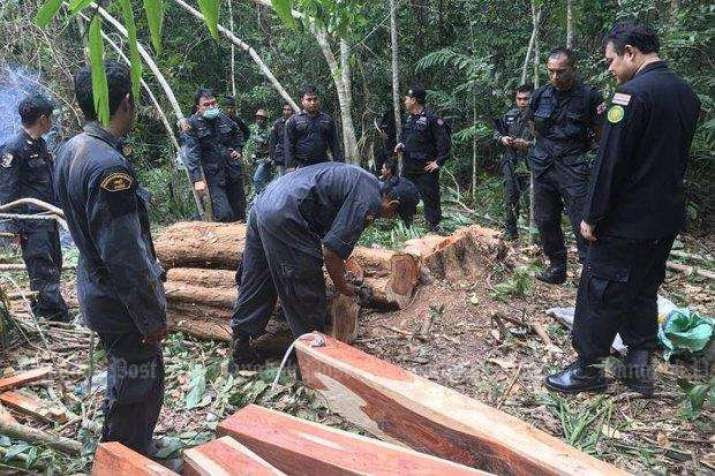 As a result of rampant deforestation for logging and agriculture—particularly during the 1970s–80s—Thailand's forest cover has dropped from around 70 per cent in 1950 to just 25 per cent today, of which only 16–17 per cent is considered healthy.
Siamese rosewood is particularly in demand for furniture production, especially in China, which has resulted in an epidemic of illegal logging and trafficking, and has resulted in violent clashes between forestry officials and poachers. In 2015, seven Thai forest rangers were reportedly killed while attempting to shut down an illegal Siamese rosewood logging operation.
According to the Environmental Investigation Agency, "Rosewood prices started to spike with the increase in Chinese millionaires and the lead-up to the 2008 Beijing Olympics. In 2011, EIA investigators witnessed a rosewood bed for sale in China for US$1 million. Since then, black market prices have rocketed, making Siam rosewood more valuable than gold."
Siamese rosewood is a particularly dense and fine-grained hardwood that is high in oils and resins, making it especially desirable for carving furniture and as a building material as it is hardwearing, rot and insect resistant, and highly fragrant.
In 2000, Thailand's Queen Sirikit, consort of the late King Bhumibol Adulyadej (1927–2016) renowned for his involvement in numerous social, conservation, and sustainable development projects, observed: "We cannot live without forests. People will have to be in symbiotic relationship with the forests. When people preserve the forests, the forests will give back to people. The relationship between people and forests are interdependent." (Environmental Investigation Agency)
Scientists have cautioned that Thailand risks losing all of its natural forest in 50 years if deforestation continues unchecked. Meanwhile, conservationists warn that the Siamese rosewood species could become extinct within 10 years if the illegal trade is not halted.
The site attracts Thai's from afar at weekends in particular, all coming to pay their respects and hope that the spirits will present them with some good or better fortune.