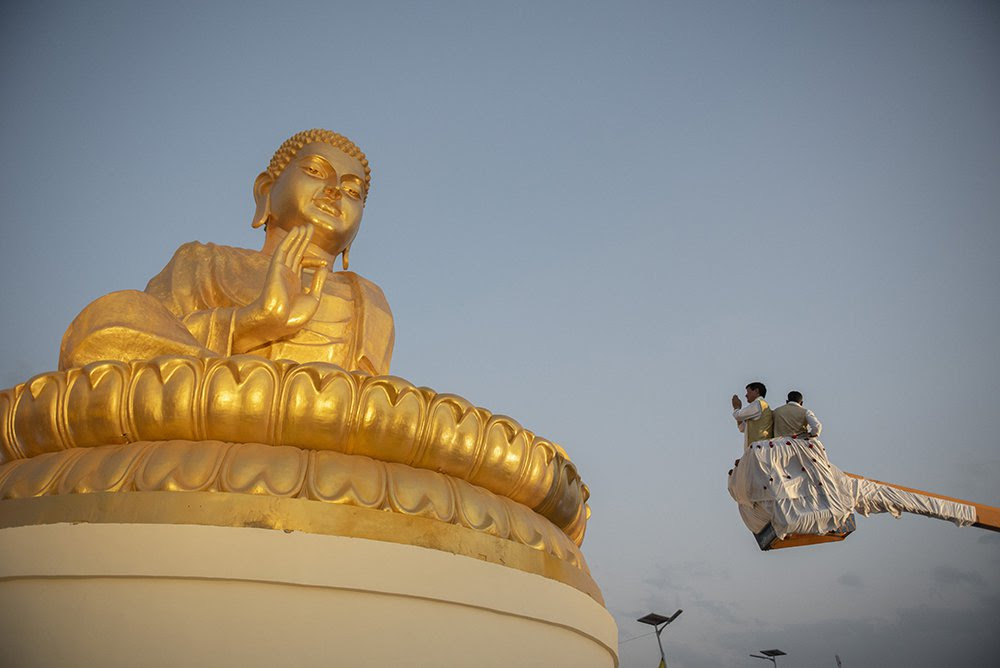 President Dr. Sangay addressed the event as the chief guest to unveil a 50 feet statue of Buddha at the invitation of Lokuttara Mahavihara Bikkhu Training Centre in Aurangabad district of Maharashtra. More than ten thousand Indian Buddhists attended the grand unveiling of the Buddha statue that is said to be the tallest in the area where a sizeable local population adheres to Buddhist faith.
Speaking in Hindi, Dr. Sangay expressed his happiness in meeting the large number of Buddhists in the area and said Tibet and India share a deep and unique cultural and spiritual heritage bond. He also appreciated the growing interest being shown in the study of Buddhism around the world including in India.
"At a time when India lays so much emphasis on maximising exports to strengthen the economy, Buddhism, which is India's home-grown spiritual tradition, is one area that can be invested in and carve a niche for a global Indian brand. In fact, Buddhism has not only grown in terms of devotees around the world, but has also proven to be a factor bringing in positive impacts and creating a more peaceful society," Dr. Sangay opined.
Dr. Sangay also paid homage to Dr. Ambedkar for his efforts to uplift and empower the lower-rung in the Indian caste system and attributed him for the growth of renewed interest in Buddhist study and Neo-Buddhists in the country.
Dr. Sangay also drew attention to the struggles Tibetans went through at the hands of China in terms of destruction of Buddhism in Tibet and the remarkable success achieved at reviving them in exile.
"Despite China's brutal and systematic attempt to wipe out Buddhism in Tibet, it however didn't succeed and Buddhism is now being preserved very well by Tibetans in exile and in the Himalayan region under the guidance of His Holiness the Dalai Lama. In fact, China is now the largest Buddhist country with over 300 million following the faith."
"Buddhism began 2600 years ago and in the passage of time, it has encountered so much destructive forces and yet, it has stood the test of time and continue to spread across the world. Indians and Tibetans, sharing a common spiritual tradition, must make efforts to spread peace and compassion to the world drawing from the teachings of Buddha," Dr. Sangay signed off his speech drawing an extended applause from the audience.
Lokuttara Mahavihara Bikkhu Training Centre is headed by Venerable Bodhipalo Mahathero and is situated in Chowka village, about 14 kms from Aurangabad in Maharashtra state. Ajanta caves, a set of about 30 rock-cut ancient Buddhist monument caves, is situated in Aurangabad and is a major pilgrimage attraction for Buddhists from around the world. The 2011 Census of India states there are 8.4 million Buddhists in India and the state of Maharashtra accounts for the highest number of Buddhist population with 5.81 % of the total population.
source – tibet.net