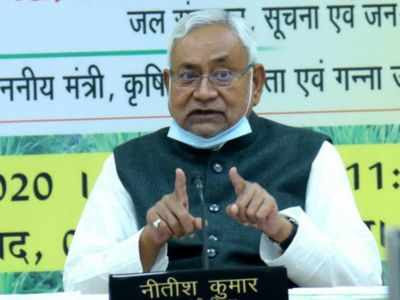 Chief Minister (CM)
Nitish Kumar on Tuesday inspected construction works at the Buddha Samyak Darshan museum and the Buddha Memorial Stupa near Vaishali, about 60km north of Patna.
There are many claims of Gautama Buddha relic but none of them are authentic. The relic which was found in Vaishali is apparently the only authentic one. It was mentioned by Chinese traveller Hiuen Tsang in his book which is preserved in China. Dr. Anant Sadashiv Altekar the archeologist and historian who discovered it in an archeological excavation between 1958–60. It was found in mud stupa in a casket. Later that mud stupa was declared as archeological site and casket was kept in Patna Museum.
The CM asked the officials concerned to expedite the construction works which were delayed because of the Covid-induced lockdown.
After the inspection, Nitish said the officials assured him that the construction works would be completed by the end of 2021.
The museum and memorial stupa are being built with an expenditure of Rs 315 crore over an area of 72 acres. The state government has already acquired 72 acres of land in Vaishali for the purpose.
"The construction work was badly hampered due to Covid-19 pandemic. It has resumed now. I have come here to take stock of the ongoing work. After the availability of the COVID vaccine, tourists will once again start visiting tourist places. Vaishali has its own historical and religious importance. The place is directly related to Lord Buddha and Lord Mahavira. Vaishali has its own history," Nitish told reporters in Vaishali.
Nitish said once the museum is ready by the end of 2021, a large number of tourists and followers of Budhha would start visiting the place. "Followers of Buddhism from other countries visit Bodh Gaya and Rajgir. Once the museum in Vaishali is ready, they all will prefer to visit the place after Bodh Gaya and Rajgir," Nitish said.
He said the state government was getting the necessary support from the Centre for linking Vaishali with the Budhha circuit. "Once the memorial stupa is ready, the foreign visitors will come to Vaishali after their Bodh Gaya trip," the CM said. Earlier in February last year, the CM had launched the construction work for Rs 315 crore Buddha Samyak Darshan Museum and the memorial stupa. The memorial stupa will house one of the authentic mortal remains of Lord Buddha.
"After 'Mahaparinirvana' of Lord Buddha, his mortal remains were distributed into eight parts. One of the eighth parts was kept at a mud stupa in Vaishali by the then Lichchhavi king of the Vaishali republic. The mortal remains were later recovered during an archaeological excavation between 1958 and 1960. They are now kept safely at Patna Museum, while the mud stupa has now been protected as an archaeological site," a state government official said.