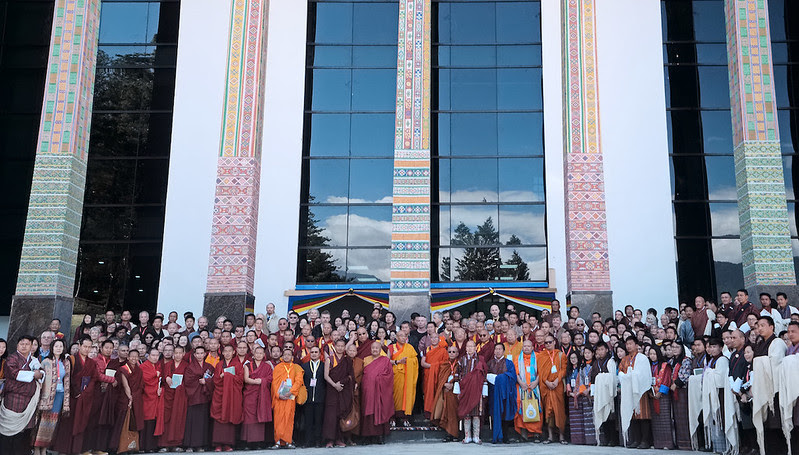 By  Shyamal Sinha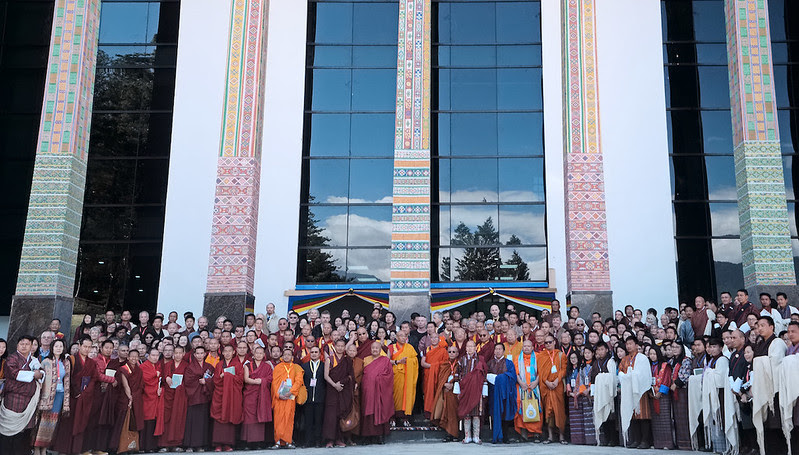 Vajrayāna (वज्रयान), Mantrayāna, Tantrayāna, Tantric Buddhism and Esoteric Buddhism are terms referring to the various Buddhist traditions of Tantra and "Secret Mantra", which developed in medieval India and spread to Tibet, Bhutan, and East Asia. In Tibet, Buddhist Tantra is termed Vajrayāna, while in China it is generally known as Tángmì Hanmi ,
Vajrayāna is usually translated as Diamond Vehicle or Thunderbolt Vehicle, referring to the Vajra, a mythical weapon which is also used as a ritual implement.
The Third International Conference inaugurated on 18 th April ,Vajrayana Buddhism in the capital Thimphu, presided over by the prime minister of Bhutan, Lotay Tshering. Titled "Techniques in Vajrayana Buddhism" and running until 20 April, the forum brings together more than 30 speakers from Bhutan and around the world, along with a similarly global lineup of dignitaries, guests, and attendees to present, examine, and discuss traditional and contemporary approaches to practicing Vajrayana Buddhism in the 21st century.
Compared with the broader scope of the two previous forums in this series, this year's conference, organized by the Center for Bhutan & GNH Studies (CBS) and the kingdom's Central Monastic Body, presented a much more focused and in-depth collection of talks and discussions by lay and monastic experts, who examined Vajrayana practices and the philosophies and sciences behind them in the contemporary context.
Nestled in the foothills of the Himalayan mountain range, and sandwiched between two political and economic heavy hitters India and China, Bhutan is the world's last remaining Vajrayana Buddhist country. The ancient spiritual tradition is embedded in the very consciousness and culture of this remote land, where it has flourished with an unbroken history that dates back to its introduction from Tibet by Padmasambhava, also known as Guru Rinpoche, in the eighth century.
This year's auspicious gathering is specifically aimed at identifying some of the unique characteristics of Vajrayana Buddhist forms of self-cultivation—spiritual, mental, and physical—that are intended to activate dormant capacities of the mind and body to manifest a transformation to more altruistic modes of awareness and well-being. The conference also provides a platform for exploring ways in which tantric techniques and approaches can be adapted to better benefit modern society, and to meet the numerous challenges facing an increasingly globalized and multicultural world.
Opening the proceedings, Dasho Karma Ura, president of the forum's organizer, CBS—a social science research institute that conducts inter-disciplinary studies for advancing Bhutan's social, cultural, economic, and political well-being—underscored the intent and objectives behind the conference, which is also one of the first pre-consecration events to be held in the country's new Library of Mind, Body, and Sound, established to fill the needs of those searching for spiritual and intellectual sustenance.
"As you all know very well, the human body is the very foundation of our experience, and it can be potentialized through various mind-body practices. Both transformation and liberation occur only through mind-body practices in Vajrayana Buddhism," Karma Ura noted in his opening remarks. "In terms of the mind as the gateway of experience, the vision, as you all know, is to experience some kind of Dharmakaya or Buddha-nature, which is a state of thoughtlessness—of course I don't use the word 'thoughtlessness' in the English sense; I use it in the Buddhist sense. And we hope that at a deeper level, this building will help all of us follow through the vision of Vajrayana to strengthen human potential through the three dimensions of human experience."
CBS is also tasked by the government with conducting and coordinating research and other activities related to Bhutan's development concept of Gross National Happiness (GNH). Remote and landlocked, perched in the rarified air of the eastern Himalayas, Bhutan is regularly ranked among the happiest countries in the world. With a population of just 736,000, according to government data for 2017, it is also one of the world's smallest and least industrialized countries, yet it has significant experience in maintaining the delicate balance of managing economic growth in a sustainable manner, famously encapsulated in its conservative GNH approach to economic development.
"As his majesty the king always reiterates in his public speeches, Bhutan has been a hidden land blessed by Guru Rinpoche," Karma Ura explained. "And that is why Bhutan could be a place to facilitate the cultivation of many things, such as Dharma practice, Buddhist economics, Gross National Happiness, well-being, and so forth."
The philosophy of GNH was introduced in the late 1970s by the country's fourth king, Jigme Singye Wangchuk, drawing inspiration from the kingdom's traditional Buddhist culture. An alternative to traditional metrics for measuring national development, such as gross national product (GNP) or gross domestic product (GDP), GNH is founded on four underlying principles or "pillars:" good governance, sustainable socio-economic development, the preservation and promotion of culture, and environmental conservation.
"I'm so happy to be addressing this gathering here because I know there is one common denominator that can draw all of us together in this room today. That is: compassion. If we don't have compassion, I don't think one would even feel the need to participate in this conference because this is not an ordinary conference," Prime Minister Lotay Tshering said in his keynote address. "So I take a lot of pride in being here today and I thank Dasho Karma Ura for taking this initiative to bring together all these like-minded people today.
"We need this—we need such activities, we need such facilities, because with modern technologies eroding our age-old traditions very fast, we have no guarantee that the younger generation will follow the footsteps. So like-minded people must gather together . . . and make such traditional practices relevant for the newer minds that are coming so that we can all be on board for generations to come."
Almost 75 per cent of Bhutan's population identify as Buddhists, according to data for 2010 from the Washington, DC-based Pew Research Center, with Hinduism accounting for the majority of the remainder. Most of Bhutan's Buddhists follow either the Drukpa Kagyu or the Nyingma schools of Vajrayana Buddhism.
source – Buddhistdoor global